CSCM partners with one of the largest print suppliers and will work with your business sector to deliver a secure, solid, cost-effective solution.
Why Choose a Managed Print Solution?
Research has shown that organisations can typically make savings of up to 40% on their printing costs by moving to a managed print service.
Benefits
Reduce capital expenditure and improve cashflow
Reduce costs and save money
Reduce waste and environmental impact
Improve device management and reporting
Free up IT resources and enhance productivity
CSCM will:
Conduct a thorough assessment of your current printing infrastructure to determine your print volumes.
Take a survey of the functionality you have, would like, and any future requirements.
Present feedback and options while detailing if any savings can be made.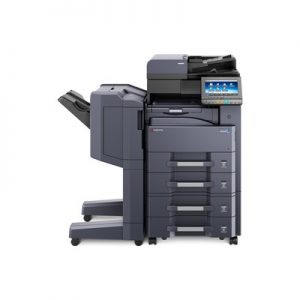 Remember we are not just talking about physical devices, big savings may be available through the use of a document management software, automated consumable replenishment and online support.
A site assessment may also open your eyes to other services you have not related to print devices, such as the fact that MFP's can be used to digitally archive or send documents and initiate advanced workflows such as automatically generate payments as invoices are scanned to archive.

As partner of Kyocera, CSCM have access to the TASKalfa Series of high-performance, heavy-duty floor-standing multifunction devices.